When you experience complaints around your intimate parts, it is important that you take action quickly. That is why you can order an STD test from SoastudentArts, which have been developed to check whether you have contracted a sexually transmitted disease. We notice that many young people have difficulty visiting a doctor out of shame when they (suspect that they are) infected. Both that restraint and contact with your doctor are ultimately not necessary at all! You can order an STD test above, this way you prevent discomfort and spread of STDs. Completely anonymous!
Cheap combi test: 1 test instead of several separate tests.
Free shipping, delivered within 2 working days.
Very reliable, performed by certified laboratory.
Checked by the doctor.
To be collected at home and returned in Groningen or sent by mail.
Within 4 working days after receiving the result of your STD test.
If you test positive, you can immediately request treatment
Order Chlamydia and Gonorrhea STD test
In addition to individual chlamydia tests, you can also order combi STD tests for chlamydia and gonorrhea at SoaStudentArts. This way you don't have to take endless individual tests, but with 1 test you have a definitive answer about several possible STDs. In addition, all STD tests are supplied with 3 cotton swabs, so that they can be taken orally, anally and at the genitals. This offers equal certainty over different body areas. In the unlikely event that the test is positive, we can immediately provide you with the correct medication. This is how we make it as accessible and simple as possible!
So, are you experiencing more discharge than usual, a burning sensation when urinating, pain in your genitals or other discomforts down there? Order your chlamydia and/or gonorrhea STD test online.
Not sure which STD test to order? then fill in our test pointer in. This immediately provides clarity about which test we recommend to you. This way you can order the right STD test right away.
How does an STD test work?
STD test women
To carry out the STD test for women to perform, you will receive a set containing the following parts A-test men:
Three cotton swabs (vagina, anus, throat)
A white tube with transport fluid
An application form
A blue transport envelope with a secure seal bag
A user manual for collection and transport
STD test men
The STD test for men contains about the same, but also urine is tested for men:
Two cotton swabs (anus, throat)
A urine pipette
A yellow window-tinted tube with transport fluid
An application form
A blue transport envelope with a secure seal bag
A user manual for collection and transport
The swabs must be inserted in the correct place to collect a culture. For the woman, this can be vaginal, oral and/or anal. For men, the cotton swabs can also be inserted anally and/or orally. In addition, the man can collect urine with a pipette to discover STDs in the genital tract. The swabs with culture can then be placed in the tube with transport liquid. The idea is that all swabs and urine end up in the same tube. Send this to the lab with your completed application form. Within 3 to 5 working days after sending the STD test you can results page see.
Why STD testing?
The figure below shows the statistics of the chlamydia tests in the Netherlands. In recent years there has been an increasing number of positive tests for Chlamydia. The same goes for gonorrhea. This shows that doing an STD test is indeed important, even if you don't have any symptoms yourself, but you do know that you have had unprotected sex. It happens more often than you think.
It is important that STDs are detected early in order to be treated properly. The consequences of not treating an STD can be serious. For example, research shows that 10 to 15 percent of women who do not treat chlamydia on time develop pelvic inflammatory disease (PID), and there is also a higher risk of infertility and ectopic pregnancies. With untreated STDs, men are more likely to develop epididymis, syphilis and HIV. Of course you can't let it get that far. Therefore, even when in doubt, order your STD test online.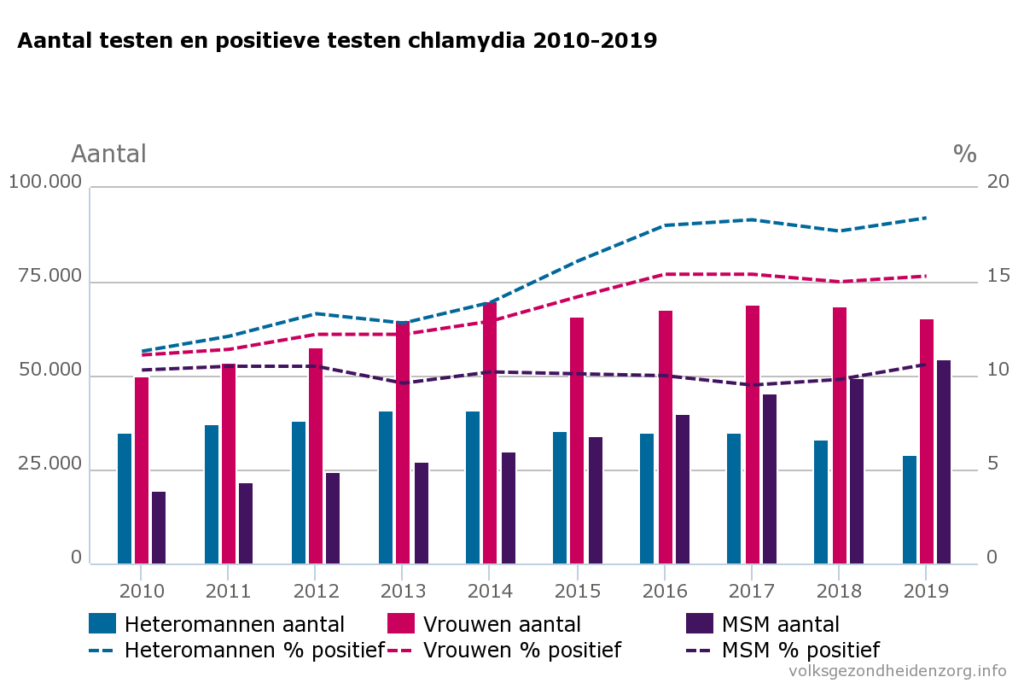 Frequently Asked Questions
New. Anyone can order our STD tests, even if you are not a student. The reason we focus on students is because our experience (as a general practitioner) has shown that students are a risk group with a relatively high number of STDs. Our goal is to help and keep as many people as possible from their STDs, which is why we made this choice. But don't worry: everyone can use our STD tests!
You can view the results of your STD test in an anonymous way via this website if you have sent the STD test to the lab for free by post. Enter the unique code that you received from the lab in your mail on the
results page
page. This can be done within 3-5 business days after sending it to the lab (keep in mind that most mailboxes are emptied by the postal service at 5 p.m.).
Research has shown that vaginal chlamydia often coexists with anal chlamydia, even if you have not had anal sex. Anal chlamydia requires a different treatment than vaginal chlamydia. At the moment, many authorities only test in one sex area, so women often do not receive the treatment they need to fight 'all' chlamydia. That is why we have developed a unique 3-in-1 test in which you can have vaginal, anal and oral tests and therefore have more certainty of a reliable result. An additional advantage for you: this is also a lot cheaper than ordering multiple individual tests!
You will not receive a message, but you can view the results anonymously within 3-5 working days if you have sent the STD test to the lab free of charge by post.
No.
StudentArts
is a general practice for residents and students in Groningen. SoaStudentArts was conceived and implemented from this practice, so that you are assured of high-quality test quality. You do not need to be registered with this practice to use our STD tests: anyone can order our STD tests.